AutomateOne
AutomateOne solution is an intelligent RPA solution
that can make automation even for challenging tasks beside regular, simple,
and repetitive works, upon alignment with multiple AI technologies.
It is a GS-certified first-grade software that the Korean government recognizes.
Cost saving

Can lessen the cost
for repetitive works by 30 to 50%.

Improving productivity

Can process the existing works
without errors two to five times
as fast as possible.

Resource efficiency

Can work for 24 hours
with software robot.
Features
Superior Application of superior
unique AI technology

Can apply AI technologies
in multiple areas.

Flexible Flexible adaptability
to working environment

Can make automation even in
non-standard working environment.

Easy Easy
development

Can be developed easily
by the users.

Fast Fast outcome
supports

Provides working and quality
information real-time basis.
AutomateOne group
좌우 스크롤하시면 전체 이미지를 보실수 있습니다.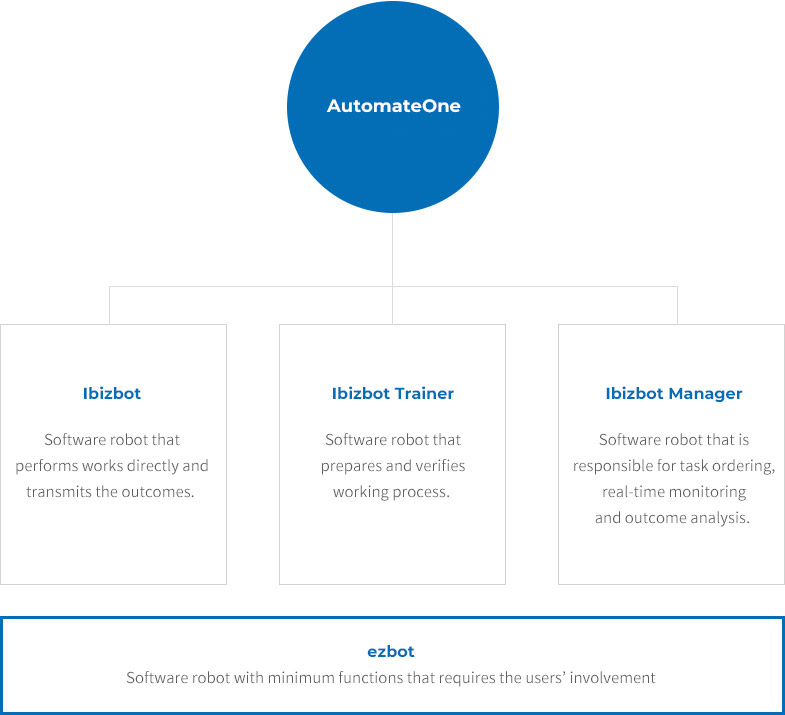 Bank

Check price appropriateness of brokerage agencies, company loans, information inquiry before providing company loan, charge commission, computer registration of market prices for used cars, handover of bonds that will cancel the accounts.

Insurance

Data extraction to generate information letter for existing customers, identifying customers that can collect the credit, supporting preparation of integrative terms, provisional attachment of receivables, sample check of information letter.

Securities

Sending stock trading report, monitoring of securities quantity, recognition and cancellation of deposit for reverse trading of stocks, downloading fund stats of the Korea Financial Investment Association.

Manufacturing

SAP invoice processing, uploading invoice, generation of potential accounts, registration of export permits.

Services

Automatic delivery of daily reports, automatic registration of orders from partners, issuance of local tax payment certificate.

Public

Proposing overtime work order, alarming usages of annual leaves, downloading budget control data, bundling process of official letters.