Biz-i4 Solution
Biz-i4, a network system to connect RPA with Smart Factory, is a web-solution
that one department controls the whole departments using RPA for the works including
quotation automation system, Auto CAD, logistic automation system,
order placements, material controls, and so on.
Generation of quotation

Can generate quotation
based on BOM.

Auto CAD drawing

Can draw the size, quantity, etc.,
on the drawing using design DB.

Web version program

Can access it easily since it is
not installation program
but web-based program.
Features
Superior Cost analysis

Can analyze the costs
by products and projects.

Flexible Estimation

Estimates total sales, profit, etc.,
in the year by generated quotations.

Easy History control

Easy to control version
by clients and projects.
Biz-i4 Solution group
좌우 스크롤하시면 전체 이미지를 보실수 있습니다.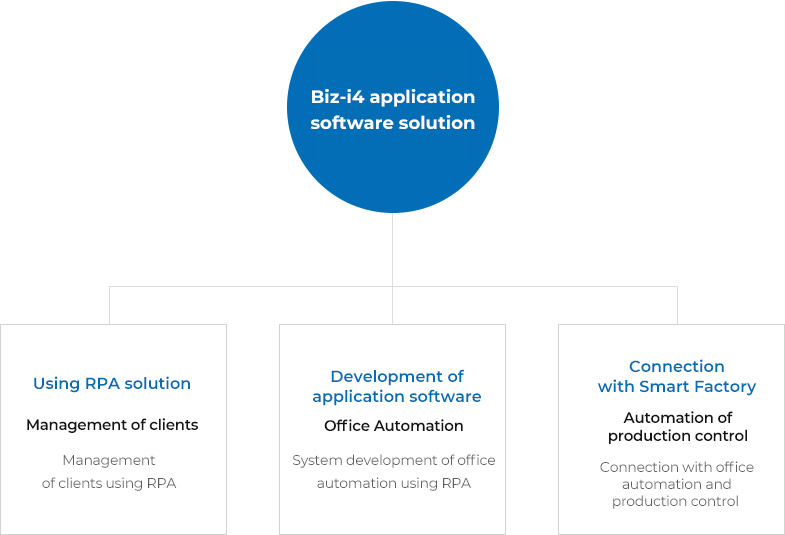 Client order placement

Client's request
for quotation

Sales department

Prepare quotation
and order taking
(quotation automation solution)

Design department

Drawing design
(AutoCAD automation solution)

Purchasing department

Order placement of materials
(PO automation solution)

Production department

Working order
(working order
automation solution)

Packaging goods

Container packing
(Automation solution
for logistic CBM 3D)